25 minutes
Makes 5 servings
A Mexican Pizza is the perfect back-to-school dinner for your family that is easy to make, packed with flavor and a kid and adult favorite. Packed with protein and calcium, you can feel good putting this meal on your table!
Ingredients
2 teaspoons olive oil

1 lb. ground beef

1/4 cup water

1 packet of taco seasoning

1 - 16 oz. can refried black beans

1/2 cup salsa of your choice vegetable oil, or cooking spray

10 flour tortillas

1/2 - 10 oz can red enchilada sauce

8 ounces sharp cheddar cheese, shredded

Garnishes:

Green onions

Fresh cilantro

Chopped tomatoes


Sour cream
Instructions
1. Preheat the oven to 350 F.

2. In a large skillet, heat the 2 teaspoons olive oil over medium high heat. Add the ground beef and cook until the beef is browned and cooked through. Add 1/4 cup water and the packet of taco seasoning, or, if using a homemade taco seasoning, add 2-3 Tablespoons of that seasoning instead. Turn the heat to medium and simmer until the water is mostly absorbed, stirring frequently. Remove from the heat, drain the excess fat and set aside.

3. Spray a large skillet with cooking spray and heat over medium heat. Add each tortilla to the skillet and let cook on each side for about 1 minute to help the tortillas crisp. Place half of the tortillas on a plate and the other half arrange in a single layer on a non-stick baking sheet.

4. Spread a layer of refried black beans on each tortilla on the baking sheet followed by salsa. Next sprinkle the ground beef over the refried black beans followed by a sprinkling of cheese on each. Place the other tortilla on top of the tortilla on the baking sheet. Using a spoon, spread a thin layer of enchilada sauce on each Mexican pizza, followed by another sprinkling of cheese.

5. Bake in the oven for 10 minutes, or until the cheese is bubbling.


6. Garnish with freshly chopped tomatoes, green onion, cilantro and sour cream or garnishes of your choice.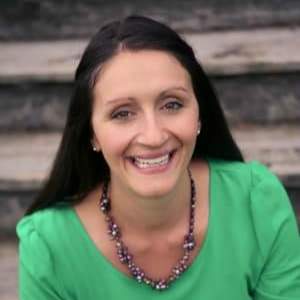 My name is Julia, and I am a busy mom of three boys! We recently relocated to Cleveland, Ohio from Chicago, Illinois, so I have a deep love for the Midwest. With three energetic boys come hungry bellies. On A Cedar Spoon, I share healthy, quick and easy recipes for the whole family with the kids in mind. I am a recipe developer, traveler and Mediterranean food lover. I love incorporating fresh, seasonal flavors and ingredients along with rich, warm spices into my cooking!