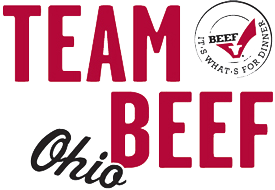 Join Team Beef
Team BEEF is open to all beef-loving Ohioans who lead an active lifestyle, whether it's running, cycling, etc. Joining Team BEEF gets you an official Team BEEF jersey and an allotted amount of funds each year to enter the events of your choice. Members will participate in a spokesperson training, facilitated by the Ohio Beef Council, to learn how to help share beef's message and promote beef at races! To receive more information on joining the team, contact us.
Fuel for the Finish
Physical activity is more effective when coupled with a protein-rich diet. Beef is a nutrient powerhouse that helps active Americans "protein up" providing fuel for the finish line. Research has shown that individuals who eat protein within an hour of exercise achieve more lean body mass than those who simply eat protein in the morning and evening.
No matter how active you are, lean beef helps to power your performance. The protein and nine other nutrients in beef work together to build your muscles and keep your body healthy for your next adventure.
Nutrition
Beef's Big 10
All lean beef cuts have less than 10 grams of total fat, 4.5 grams or less of saturated fat and less than 95 milligrams of cholesterol per 3 ounce serving. Additionally, beef gives your body more of the nutrients you need, like beef's big 10:
Protein : helps preserve and build muscleIron: helps your body utilize oxygen

Vitamins B6 and B12: help maintain brain function and give you energy

Zinc: helps maintain a healthy immune system

Phosphorus: helps build teeth and bones

Niacin: supports energy production and metabolism

Riboflavin: helps convert food into fuel

Selenium: helps protect cells from damage

Choline: supports nervous system development